About Ultracold Neutrons
LANSCE is home to one of the most intense sources of some of the coldest subatomic particles:
ultracold neutrons
.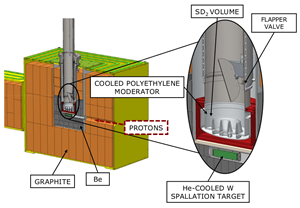 Ultracold neutrons (UCNs) have extremely low energy, less than 300 neV. At these energies, they are sensitive to magnetic, gravitational, and material potentials that can be realized in a laboratory.
UCNs have a temperature of less than 4 mK, move less than 8 m/s, and have a wavelength of more than 500 angstroms. They can be polarized by strong magnetic fields of about 6 Tesla, and are reflected by materials such as Nickel and Copper.
The LANSCE UCN source uses spallation to create UCN. 800 MeV protons impact a tungsten target, causing lots of very fast neutrons to be released. These neutrons are moderated to about 40 K and single scatter in a solid deuterium (SD2) crystal, and lose all of their energy to become UCN. After an intense beam burst hits the target and creates the UCN, the UCN travel up the source volume and a "flapper" seals them outside of the SD2 source. These UCN then bounce along the guides made of stainless steel, copper or quartz coated with highly UCN-reflective Diamond-Like Carbon (DLC).