Beam Transport
One of the greatest strengths of the LANSCE facility is that it can produce proton beams with a wide range of time structures.
Contact  
LANSCE User Office
(505) 667-6797
A simplified drawing of the beam transport system from the linac to Target-1 (Lujan Center), Target-2 (Blue Room) and Target-4 is shown below. In usual operation, beam is transported from the linac through the pulsed Ring Injection Kicker (RIKI) magnet. When RIKI is switched on, the beam is injected into the storage ring with the time structure. The beam is accumulated in the PSR and then transported to Target-1.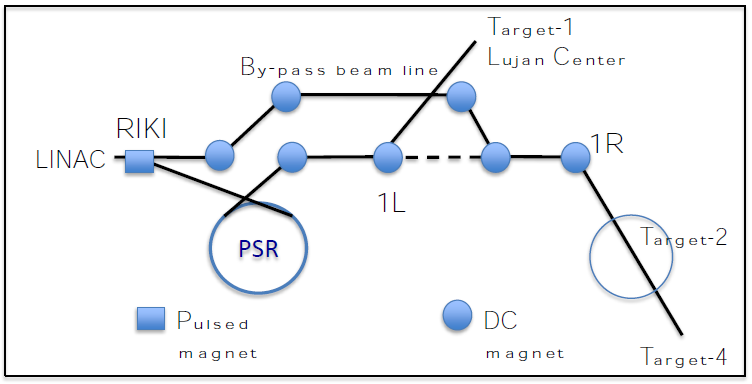 When RIKI is switched off, the beam is transported through the "bypass beam line" to Target-2 or Target-4. RIKI switches between macropulses. Typically, 20 macropulses per sec are sent to the Lujan Center and the remainder are delivered to Target-2 or Target-4. Presently, the LINAC is accelerating 60 macropulses per sec so 40 macropulses per sec go to Target-2/4.